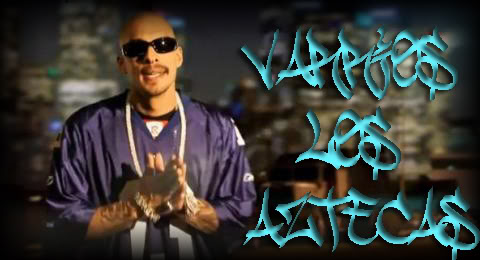 Varrios Los Aztecas is a hispanic gang who would be found on El Corona and Unity Station , the gang members are wearing blue colors because the color of the gang represent blue,their enemies is Los Santos Vagos and the sets of Ballas.
The Varrios are traditionally anti-narcotics, with heavy involvement in gun running and street violence, and they only have a few territories compared to other gangs, and these are clustered around the south-western areas of Eastern Los Santos. Varrios Los Aztecas members are mostly seen wearing turquoise bandanas and sunglasses, dressed in 'cholo' style clothing of the time.The Varrios Los Aztecas are a Mexican street gang that have been described as an "extremely dangerous Hispanic street gang" and as "violent, proud and psychotic". They are heavily involved in arms dealing/gun-running, gang-banging, gang warfare, street violence, murder, illegal street racing, low-riding and vandalism.

OOC & IC Rules :
**To be updated **


(El Jefe : The ones who controles the barrio, makes all decisions.)
Lil_Snupe(K Dogg's Alt account)
(Mano Derecha : The one in the second rank , makes decisions when the jefe is not here.)
Lil_Diablo(John's Alt Account)
(Soldados : They are the barrio's gangsters , they are the most respect in the barrio)
-
(Trusted Members : They build the respect in the barrio , they were loyal)
-
(Cholo's: They just came in the barrio , trying to earn the blue rag)
To join the faction, you'll have to find the gang in their territory somewhere and introduce yourself for them. Getting into the gang would take around 1-2 weeks. Depending on how good you roleplay, how active you are, and so on. If you're planning to join another faction after joining VLA, then this is nothing for you.
Last edited by Lil_Diablo on Fri Feb 28, 2014 3:41 am; edited 2 times in total



Posts

: 48


Join date

: 2013-05-01


Age

: 22



Isn`t there already a leader? [VLA]Billy? If not then you receive a +1 ,but I need to make sure. Nevertheless good luck!



Posts

: 9


Join date

: 2013-11-22


Age

: 19


Location

: Lithuania, Vilnius



He left the leadership , anyways thanks.
Razzor made me official, I've never led this faction.

OT: Good luck with this, you can make it.

+1



Posts

: 9


Join date

: 2014-02-25



Well sorry I was wrong then. Anyways just to make you sure here is my +1



Posts

: 9


Join date

: 2013-11-22


Age

: 19


Location

: Lithuania, Vilnius



I like it lead it well Vagos are joders (fuckers in English) amigos +1



Posts

: 17


Join date

: 2013-04-26



Show some screens and stuff, I wanna see your roleplay.



Posts

: 3


Join date

: 2013-05-27


Age

: 21


Location

: America



+1, but don't leave it soon.



Posts

: 4


Join date

: 2013-04-24





Similar topics
---
Permissions in this forum:
You
cannot
reply to topics in this forum